Avoid Freezing Pipes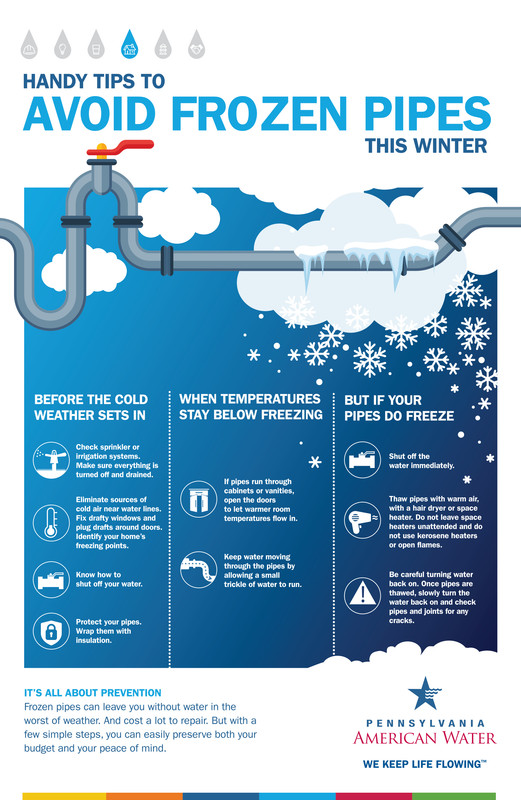 ---
Covid-19
In light of the uncertainties surrounding the Corona virus, the City of Alma has implemented plans and procedures in all departments which align with recommendations from the Centers for Disease Control and the Arkansas Department of Health. These plans and procedures are designed to protect the health of our customers and employees. Contingency plans have been adopted to ensure uninterrupted service in all departments in the event any of our employees become infected.
The water office is currently open to the public for making payments. But, payments can be made through the drop boxes on the front of the water office and at Bank OZK, payments can also be made by credit card online or through automatic bank draft, please call to set up free bank draft. New customers can complete an online application service as well.  Website:  www.cityofalma.org/water/
The environmental protection agency has stated that the Covid-19 virus has not been detected in drinking water supplies. Based on current evidence the risk to water supplies is low. Existing treatment requirements for public water systems prevent waterborne pathogens such as viruses from contaminating drinking water. Americans can continue to use and drink water from the tap as usual.
City of Alma water treatment personnel have confirmed the uninterrupted availability of supplies necessary for the water treatment process.
Rest assured, the City of Alma Public Works is proactive in monitoring the situation and taking every precaution to keep our customers and employees safe while providing continued quality service. If you have any questions, please call us at 479-632-2254.
---
Make A Payment
Click Here to make a payment on your water and wastewater account. Or login to the WaterSmart portal at: alma.watersmart.com
---
Customer Portal
Call the water office for easy Customer Portal registration: 479.632.2254 or register at: alma.watersmart.com
Make Payments and setup Auto-pay by Credit Card
View Statements
View Water usage
View Payment History
Set usage Alerts
Register for e-statements
---
Free Bank Draft Registration
To register for FREE bank draft services, call the water office at 479.632.2254
---
Billing Information
Payment for a water and sewer service is due upon receipt and past due 15 days from the billing date. A 10% late penalty is charged for payments received after 5:00 pm on the 15th of the month. Late Notices are sent out the evening of the 15th indicating a potential disconnect on the 23rd if a payment is not made by the 22nd before 5:00 pm.
View Our Customer Service Policy >
---
Request New Water & Sewer Service
---
About Our Department
Alma Water & Wastewater is committed to providing high quality drinking water to the families in our area, while protecting the environment through excellent wastewater treatment.
Alma Water and Wastewater is municipally owned and operated.  However, operations are fully supported by water and wastewater rates.
Our water originates in beautiful Lake Alma.  The water is purified at the Alma Water Treatment Facility before distribution to the Cities of Alma, Dyer, Kibler and Redhill Water Users.  Alma's water is ozonated for quality taste and fluoridated for oral health. Alma's water has been a first place recipient of Arkansas's drinking water taste contest.
To complete the cycle, our wastewater is efficiently collected and transferred to the Alma Wastewater Treatment Facility where aerated lagoons thoroughly process the waste before the water returns to the Arkansas River.